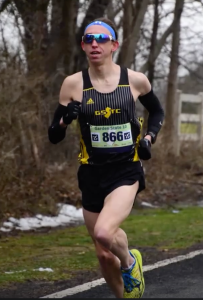 Coach Josh Izewski serves many coaching roles for the GSTC.  Along with writing the spring and fall team training plans, he also writes personalized plans for individual members - from the mile to the marathon.
As an NCAA All-American, Olympic Trials Marathon qualifier, and student of the sport, he brings a wealth of expertise to the club.Over the past five years, Coach Josh has worked with countless GSTC runners and triathletes of all ages and abilities to help them achieve their goals.
Athletic Background:
Swimming: Josh began his athletic career at the age of eight. Growing up he swam for USA swimming clubs and then for Central Bucks High School East where he was an All-State swimmer.Running: Upon the conclusion of his junior year of high school, he became a runner full time. Josh was an All-American runner and Pennsylvania State Indoor Champion in the 3000m his senior year. He then accepted a scholarship to compete for the University of Florida where he was an NCAA Championships qualifier in both cross-country and track.
Triathlon: After graduating Josh was recruited by USA Triathlon to be a part of the Collegiate Recruitment Program and then competed for the Origin Performance Elite Squad.  He had the opportunity to train at the Olympic Training Center in both Colorado Springs and Chula Vista. Josh was a professional triathlete for 3 years and during this time he had 17 international starts and was a 2016 ITU Draft Legal World Championship qualifier in Cozumel, Mexico. He was the second American finisher ahead of two 2016 Olympians.
Currently: Josh is running 85-100miles a week in preparation for local races in the Tri-State area with the goal of qualifying for the Olympic Trails.  He can often be seen at many local races competing, interacting and coaching local athletes.
Josh's Personal Records:
3000m: 8:11
5000m: 13:36
8000m (road): 23:17
10000m: 29:21
Experience: USATF level 1 certified coach. Professional Triathlete for 3 years. Previously an athlete and coach for Origin Performance. Currently coaching runners and triathletes.
My Coaching Philosophy:
Josh's coaching philosophy creates a sustainable, athlete-centered, coach-driven successful environment that puts athletes first and in a position to achieve the highest levels of success in all aspects of training and racing. Josh emphasizes the importance of high moral values, personal responsibility and accountability, respect for others, self-confidence, healthy competitive spirit, and a desire to give your best. 
Josh believes that no athlete is the same and there is no one system that works for everyone. Through an individualized and holistic approach, everyone can achieve there desired goals.
I Feel Comfortable Coaching:
All levels of triathlon, swimmers, cyclists, and runners.
Expectations of Me:
Individualized daily training plans sent weekly with current ability and goals in mind
Review of athletes history and goal setting
Benchmark testing, and progress monitoring
Weekly log review and an updated weekly focus
Race selection, planning, and recapping
Scheduled meet-ups for workouts when possible
Regular correspondence via email and text messaging
Scheduled phone calls
Expectations of You:
Dedication and a positive attitude
Effective completion of training, and effective communication of your needs
Ask questions
Have fun and enjoy the journey