400 Meter Hurdles to Mile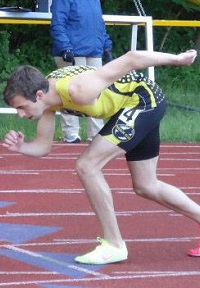 I Feel Comfortable Coaching:
55 Hurdles to Half-Marathon
I most enjoy coaching:
400H/800/Mile
Experience:
3+ Years with Garden State Track Club, 2 years Middlesex County College XC/T&F
Expectations of You:
To provide a detailed and accurate history of training, racing and goals. I expect the athlete to be willing, within reason and agreed upon expectation to complete the plan as required. An athlete is only as good as his or her coach and vice versa. With a unified team effort, it is only a matter of time before goals are met.
Expectations of Me:
A customized training plan tailored to your unique needs, history, and race will be provided to you on a weekly basis, as well as e-mail, facebook and phone contact as needed.
My Coaching Philosophy:
My philosophy when it comes to coaching is to respect the training. It is a hackneyed phrase but one can only get out of running what they put into it. If an athlete can take control of his or her training and put forth an honest effort into what they set out to do, there is little reason that goals cannot be met. This intelligent approach to training combined with the appropriate plan is the key to running success in any distance, and at any level.