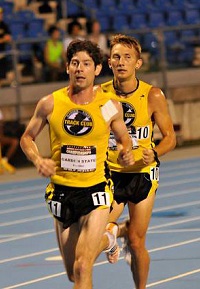 Events:
Distance (Mile to Marathon)Athletes I Most Enjoy Coaching: Those concentrating on the HM and Marathon
Experience:
Eight years of coaching High School athletes in XC and distance Track events
Expectations of You:
The athlete is expected to communicate regularly and honestly with the coach each week. Also, to supply answers about themselves athletically to help fuel a training plan that best suits their needs.
Expectations of Me:
The coach will be available to the athlete through e-mail, facebook, cell, or whatever other medium works best for both parties. The coach will work with the athlete throughout the season to help ensure the athlete is successfully completing their training. A thorough training plan will be provided in the beginning of the training cycle and throughout the season the coach and athlete will work together to modify it as needed.
My Coaching Philosophy:
Running can be a lifelong activity and to keep it that way I believe it should be kept fun and fulfilling. This is accomplished through running the appropriate mileage for the individual, improving performances through timely workouts and runs that are designed to improve different physiological and mental needs, pacing hard efforts and recovery runs accordingly, and finally allowing yourself to step out of your comfort zone to explore what your body and mind are truly capable of accomplishing!
Personal Running:
I started my running career in High School and continued to race through college. Post-collegiately, I've participated in everything from track races to road and cross country races and ultimately found my most competitive edge in racing the Half Marathon and Marathon.
Availability:
As a current teacher and High School coach who still runs competitively, I only have time to take on so many athletes at once. I do not believe it is right to take on too many, as I wish to give all the runners I'm coaching my best effort. That said feel free to reach out to me as I'll take athletes on a first come first serve basis. I am however always available to field questions or critique training plans if you are just looking for a second set of eyes to look over your training.